Home Staging Statistics demonstrate the value of Home Staging
Home Staging statistics are very hard to compile as it is difficult to determine the effect of home staging on the sale.  For sure, there is a ton of empirical evidence on a case by case basis and I KNOW it works as I live it every day for the last 12 years.  I have lost count of times when a property miraculously sells a few days (or a few weeks) after it has been staged, when it had been sitting on the market for several months prior and the sellers contacted me out of desperation.
I have also had a few very amusing situations, when a buyer would make an offer on the same property they saw before it was staged and passed it.  Then they came back AFTER it was staged and fell in love!
So, I was thrilled to have found the latest home staging statistics by NAR (National Association of Realtors) Research Department, who published the 2017 Profile of Home Staging Report.  You can DOWNLOAD the full report here to read all the interesting facts and statistics, which clearly demonstrate the impact home staging has on buyers (which is what you want, as a seller :)).
Some Highlights of the report:
Seventy-seven percent of buyers' agents said staging a home made it easier for a buyer to visualize the property as a future home.

About one third of buyer's agents said that staging a home increased the dollar value offered between one and five percent compared to other similar homes on the market that are not staged

When staging a home, 29 percent of sellers' agents reported an increase of one percent to five percent of the dollar value offered by buyers, in comparison to similar homes. Twenty one percent of respondents stated that

staging a home increased the dollar value of the home between six and 10 percent.

Thirty nine percent of sellers' agents stated that staging a home greatly decreases the amount of time the home is on the market.

The most common rooms that are staged include the living room (83 percent), kitchen (76 percent), master bedroom (69 percent), and the dining room (66 percent).
You can see all the important points in the info graphic on home staging statistics.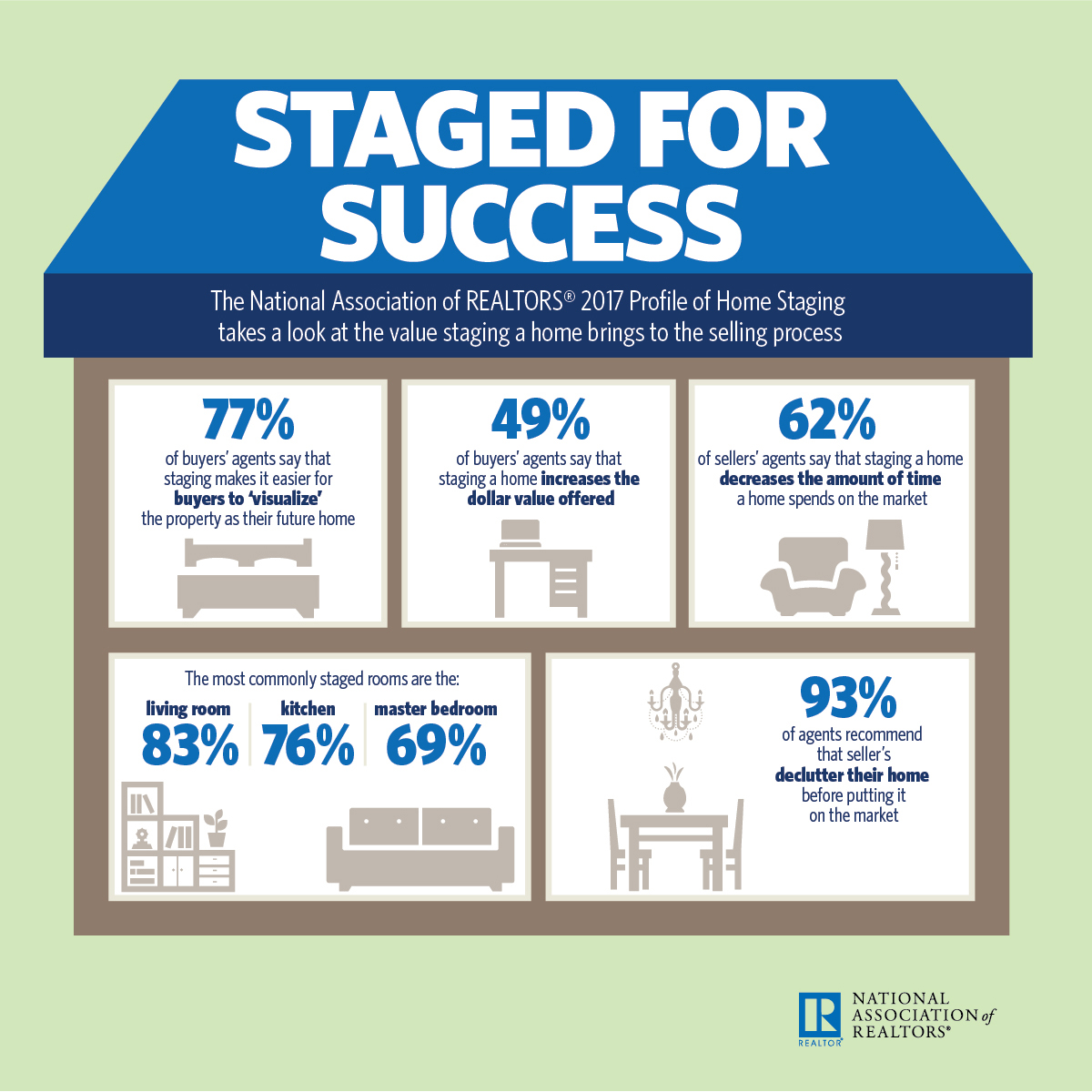 I hope this convinces you of the importance of Staging your home for sale.  If you have any questions, please CONTACT US.
We also created a Find information by topic category page on preparing house for sale.